Companies have been using Predictive Maintenance for 30 years using technologies like vibration, ultrasonic, thermography, oil analysis, and motor current analysis. It is only within the last five years that advances in technology have radically changed what is possible. The future of Predictive Maintenance is real-time, multi-parametric monitoring that automatically diagnoses problems.
The old
Recently, I was asked about the reporting capabilities within Petasense's Asset Reliability & Optimization (ARO) software. This is a reminder of how ingrained the ways of doing things are with experienced vibration analysts. It gave me pause, because it is like asking how often we need to go to the post office to send an email. The traditional paradigms for vibration analysis are changing as new entrants are coming from non-traditional industries.
Traditional PdM technologies are used by highly trained reliability engineers who are an expert in his/her discipline. Typically, few outside this field understand or use the information generated. The reliability engineer generates a report which is often lost or disregarded.
The new
At Petasense, we bring a unique perspective to asset reliability. We have created a system based on real-time access to asset condition, transparency, and modern wireless and machine learning technology. It is not just a modern version of vibration analysis, but rather a complete rethinking of asset reliability.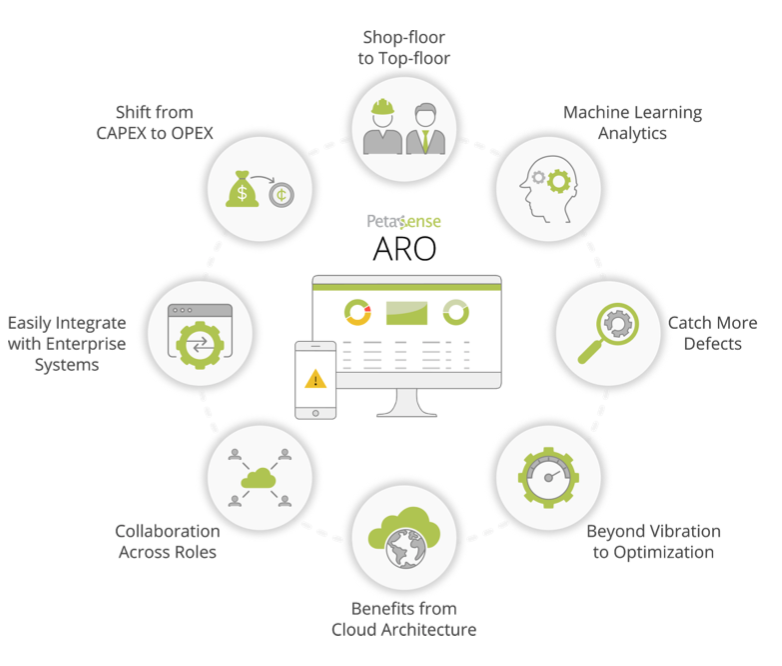 Petasense's Asset Reliability and Optimization (ARO) software offers the deep vibration analysis capabilities that an analyst needs, and goes beyond traditional vibration analysis programs in the following eight ways:

Shop floor to top floor – no longer a siloed application, ARO has unlimited user licenses and role based access. Whether a maintenance technician or plant manager, everyone can see the information necessary to do his/her job.

Machine learning analytics – advanced algorithms that analyze over 30 different parameters to give a single indicator of asset health. We like to say that this is an assistant to the analyst — let the program do all the routine work and let the analyst focus his/her time on what is really important.

Continuous monitoring allows you to catch more defects. Instead of taking readings every few weeks and writing a report that isn't used, data is automatically collected and available anytime, anywhere. Notifications are sent directly to the person who needs to see them.

Going beyond failure prediction to extending asset life – bring in operational/process data to truly understand asset condition under similar operating states and make better process-related decisions based on understanding of asset health.

Cloud architecture brings scalability, enterprise-grade security, reduction of IT support necessary, anytime anywhere access, and evergreen upgrades. All of this is pretty standard in consumer facing applications, but still not traditional in the industrial world.

Asset centric "activity feed" which provides a modern day record of all knowledge related to each asset.

Integration with other systems such as data historians, SCADA and CMMS. We created ARO to be an open system that shares data freely with existing systems.

Business model that shifts investment from CapEx to OpEx. ARO software becomes a controllable Operating Expense that users can build into their maintenance budget, rather than a single, large cost that is difficult to justify.
The best way to understand it is to see it in action. Click here to schedule a demo and see how ARO is the future of predictive maintenance.