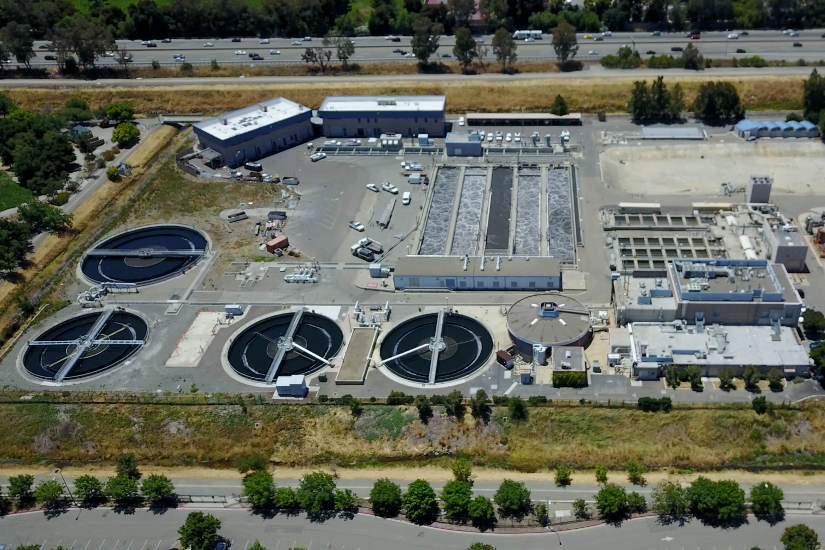 Dublin-San Ramon Services District serves over 190,000 residents within the cities of Dublin, San Ramon, and Pleasanton in Northern California.
The Digital Age of the Water Industry
As with many public utilities across the globe, the water and wastewater industry faces the never-ending challenges of operating and maintaining aging infrastructure. This, combined with water scarcity concerns, high energy costs, regulatory restrictions, and limited financing from the public sector, create the perfect storm that can leave water utilities drowning. In fact, year after year, utilities continue to cite aging infrastructure as the single largest challenge that they face, which can lead to unnecessarily high maintenance costs, leaks, and disruptions in service to communities (Black & Veatch, 2022 US Water Report).
As new technologies emerge in industrial monitoring and asset management, the future of the water utility industry is becoming increasingly digital. Innovative approaches that integrate IT and OT are desperately needed to meet rising customer expectations. Water utilities, at the forefront of digitization, are experimenting with different strategies. Modernizing operations with industrial IoT, cloud computing, and data analytics is proving to be the best direction in the industry-wide shift to the digital plant.
Introduction to DSRSD
Since 1953, Dublin San Ramon Services District (DSRSD) has provided potable water, wastewater, and recycled water services to the California Bay Area. The utility currently serves over 190,000 residents within the cities of Dublin, San Ramon, and Pleasanton in Northern California. Over the past 70 years, the utility has provided value for the community by delivering high-quality water services at a competitive price and in an environmentally responsible manner.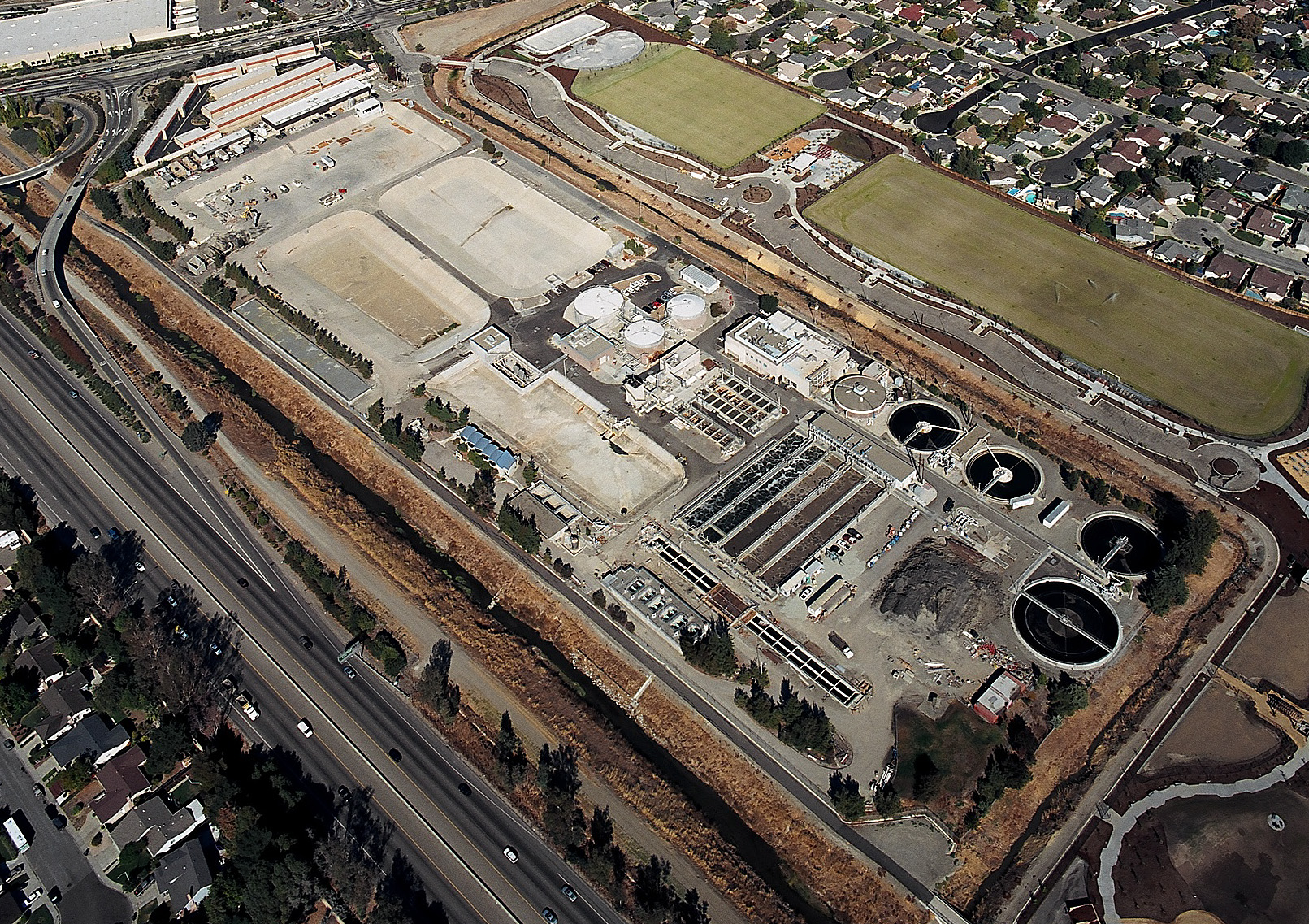 Aerial view of the DSRSD Waste Water Treatment Plant in Dublin, California.
Shifting from Preventive to Predictive 
Historically, the maintenance program at DSRSD was based on a generic set of industry standards along with estimated useful life of equipment and parts provided by the OEMs. Asset maintenance was performed solely based on generic manufacturer specifications and "tribal knowledge" from long-term staff. The utility was burdened with excessive monthly inspections and a preventive maintenance schedule that often resulted in unnecessary repairs being performed. At the same time, the manual approach to monitoring would still lead to occasional breakdowns and unexpected downtime. 
In late 2019, DSRSD started looking for solutions to improve asset reliability and optimize the efficiency of their team and processes. Shawn Quinlan, Superintendent of Mechanical Maintenance at DSRSD, was tasked to evaluate wireless monitoring systems to trial on site. With over 42 years of experience in the water utility industry, Quinlan is closely involved with the operation, maintenance, and repair or replacement of all of the utility's mechanical equipment. He provides oversight for a number of critical facilities at DSRSD, including a wastewater treatment plant, a biosolids facility, biogas production operations, a cogeneration facility, a recycled water treatment plant, 3 sewer lift stations, 6 pump stations, and 17 potable water pump stations.  

While evaluating asset monitoring technologies, Shawn and his team focused on specific criteria to improve their program. Aside from having the ability to detect machinery faults early on, the ideal solution needed to have a small footprint, be easy to install, cover a diverse range of machinery and require a minimal amount of supporting infrastructure. In addition, DSRSD needed personnel to review the data periodically and provide diagnostics and maintenance recommendations. With such a system in place, DSRSD would be able to reduce time spent on inspections and repairs and use their resources more efficiently in other areas.
The Dublin San Ramon Services District came across their ideal solution in late 2019 at a water utility user group where Petasense was presenting their technology. The Petasense Vibration Motes appeared to meet all their criteria. The Vibration Motes, which wirelessly monitor vibration, temperature and running speed of rotating equipment, indeed had a small footprint and could be installed in minutes using a steel-reinforced epoxy. Both devices continuously monitor rotating assets such as motors, pumps, compressors, and fans and help identify early-stage mechanical defects in real time. In addition, Petasense's Transmitter allowed for 3rd party, wired sensors to be utilized wirelessly in order to monitor virtually any asset, including rotating machines, valves, and electrical panels. Most importantly, these wireless sensors were able to communicate via standard WiFi, which DSRSD had  already installed throughout their facilities.


Trialing Wireless PdM from Petasense
After deciding to try Petasense for an initial pilot project, Quinlan noted that, "Early success would be determined by ease of use, product experience, the ability to view and interact with sensor data, and the value provided by the analytics." DSRSD selected several vertical turbine pumps and critical blowers to trial the Petasense system on. Shawn comments, "The installation of the Petasense Motes was surprisingly quick and simple." Each Mote took just 5 minutes to install using the steel epoxy. Connecting the Motes to the Cloud was seamless thanks to the existing WiFi network on site. The benefits of implementing an IoT-based asset monitoring system were already becoming apparent for DSRSD.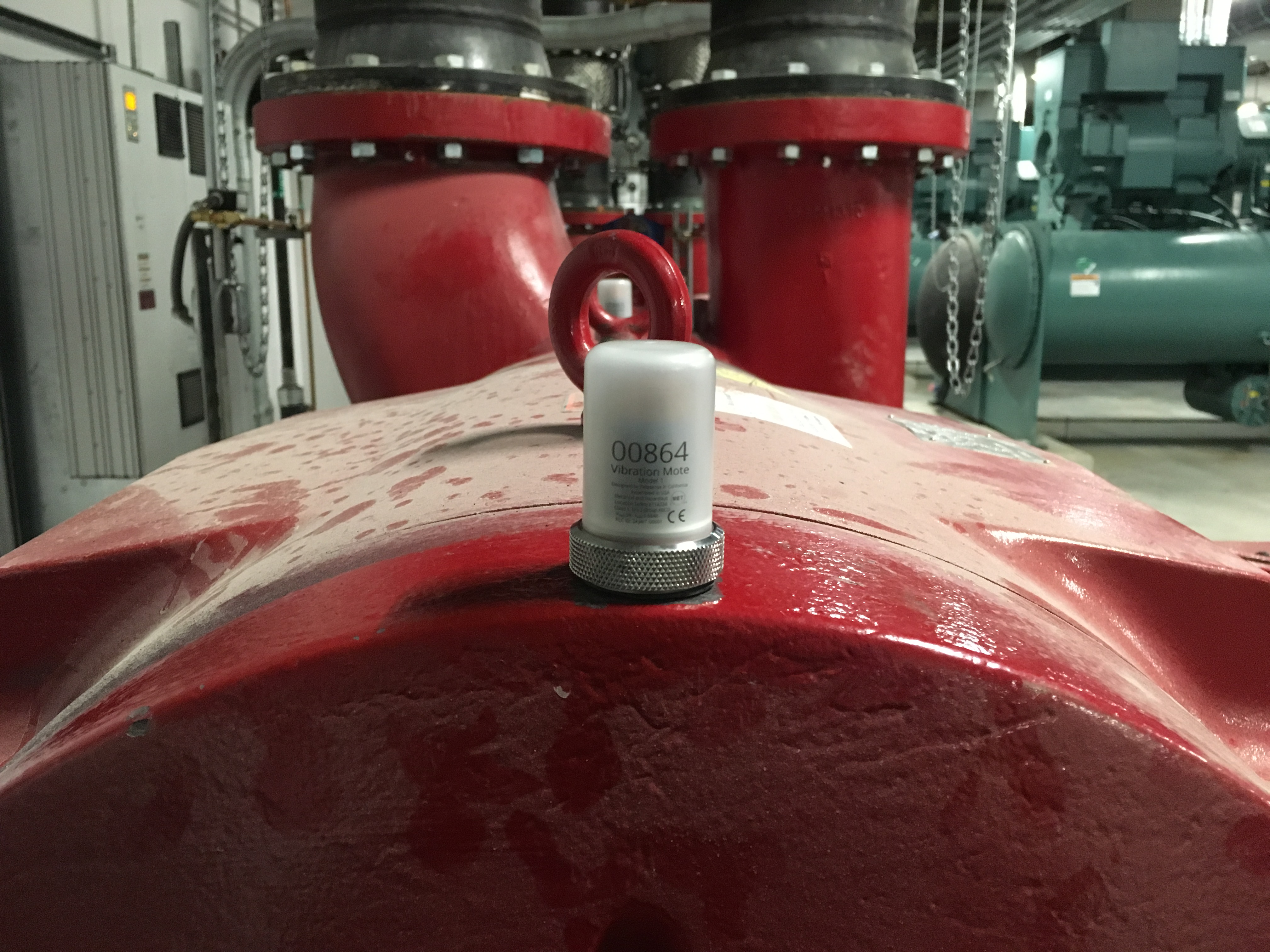 Petasense Vibration Mote installed on a process water pump; monitoring triaxial vibration, temperature and running speed (via magnetic flux).
Pilot Results and ROI
The benefits of wireless asset monitoring were realized in July 2021, when the system alerted DSRSD of a defect developing with one of their  critical water pumps. The process water pump, identified as PS20A #1, began to show signs of a loose coupling between the motor and pump. An automated email notification was sent to Shawn and his team and they were able to schedule a pump inspection on the same day. The initial inspection revealed improper alignment of the motor and pump shafts, which could have resulted in a major failure and potential downtime without advanced warning from the wireless system. The DSRSD maintenance team was able to perform a realignment during a scheduled shutdown period, avoiding unplanned downtime and excess repair costs.


Petasense WebApp: Tri-axial Vibration Spectrum Chart, indicating a loose coupling on a process water pump
This was the first of many instances where wireless monitoring and predictive analytics enabled DSRSD to perform maintenance proactively and realize a return on their investment. In a more recent case, the Petasense system identified a defect developing on a critical fan, known as Turblex Blower #1. The high-RPM motor, which drives the fan, was starting to develop early-stage bearing wear, which also triggered an automated alert for the DSRSD team. In parallel, Petasense's team of certified vibration analysts were closely monitoring the developing issue and providing diagnostic support to the utility maintenance team. Petasense analysts observed low-frequency noise within the vibration spectrum and high-frequency sidebands present on both motor bearings. With this guidance, DSRSD was able to safely replace the motor bearings during a planned shutdown without interrupting their process. Shawn Quinlan notes that, "If this bearing issue was left unchecked, it would have resulted in motor failure and possibly failure of the entire blower due to the extremely close tolerances. Without the early detection this would have been far more costly than just the motor repair." 
The Petasense analysts gave the DSRSD actionable recommendations that the utility confirmed to be highly accurate, resulting in a notable return on their investment. Dublin San Ramon Services District has been able to avoid a number of catastrophic failures since the implementation of Petasense. Notably, the three most impactful defects caught resulted in a combined total savings of over $215,000 USD:
• $36,000 saved by predicting process water pump coupling failure (PS20A)
• $41,000 saved by predicting potable water pump defect
• $39,000 saved by predicting a bearing defect on a 400-HP motor (Turblex Blower)
The total cost for repairs was $17,000, which when compared to preventive maintenance repair costs was a savings in equipment replacements of $99,000. With the use of Petasense technology, DSRSD spent nearly 86% less than the amount they typically had allocated for equipment repairs. In addition to direct maintenance and repair savings, the Petasense system also empowers the DSRSD team to spend their time more efficiently. According to Shawn, "The labor savings are hard to quantify, but there are definitely big savings that come with not having to completely remove, repair, or replace equipment. Time is also saved now that records no longer need to be stored by administrative staff." This savings is not only helping the municipal utility save money; it is also truly benefiting the community now that critical assets are both optimized and reliable.


On the Horizon for DSRSD

Since the initial trial, DSRSD has uncovered immense benefits from the Petasense system. Today, the team can accurately forecast equipment defects and take action based on known early stages of failure. The Petasense analyst team continues to support DSRSD with recommendations and actionable insights. "With this, the DSRSD's program can now reflect its true lifespan, and budgeting for equipment and maintenance is now accurate and fact-based" comments Quinlan, "As far as reducing workload, the staff no longer needs to visit equipment except at prescribed maintenance intervals. We now save 2 or more hours a day by eliminating the need for manual checks and inspections."

After experiencing the benefits of wireless condition monitoring first hand, Shawn believes that, "All critical, specialized, and low redundancy equipment across the entire water utility industry should be monitored this way. Preventive maintenance will always be a part of our program for low-criticality equipment, but going forward, wireless predictive maintenance will now be the focus for critical equipment." Looking forward, DSRSD will continue implementing wireless monitoring from Petasense at their Waste Water Plant and plans to expand to their critical potable water stations in the near future.