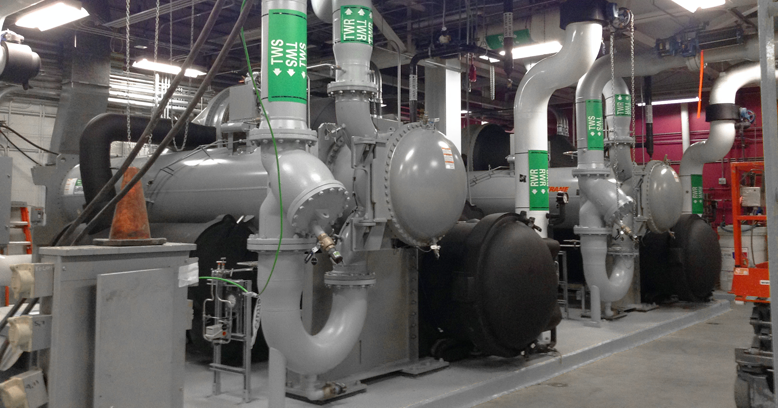 C&W Services implemented a wireless and AI-based predictive maintenance (PdM) solution from Petasense at a leading pharmaceutical and biotech client's facility to automate data collection, improve asset reliability, reduce equipment downtime and achieve better resource allocation by continuous monitoring of critical machinery.
"With Petasense, even an average facility operator can easily deploy PdM, use it effectively, conduct waveform and spectrum analysis and derive meaningful insights with limited training, unlike other solutions in the market."
— David Auton, Senior Director of Reliability Engineering
BACKGROUND
C&W Services (or Cushman & Wakefield Services) is a leading integrated facilities services and management company that serves more than 600 clients with the maintenance of more than 600 million square feet across North America. C&W Services has seen its clients transform from reactive to preventive to predictive maintenance models over the years.
CHALLENGES
C&W Services was using a manual condition monitoring program at one of its leading life sciences' client up until last year. At best, data was collected manually every 30 days, even on the most critical machines, using a handheld data logger. After the data collection all of the data analysis had to be outsourced to a third party for analysis. This approach has several limitations:
Unplanned Downtime:Infrequent data collection often led to defects cropping up in between the monthly walk-around cycles. Problems that occurred between sampling went undetected for a period and in some cases, led to client downtime.
Shortage of Manpower: Resource requirements and time consumption of the monthly data collection at client facilities consumed C&W Services team in the walk-around program, at a time when efforts should have been to improve equipment performance instead of manual data collection.
Safety and Access: Some areas housing critical machinery posed dangers to contractors collecting data. C&W Services did not want to risk the health and safety of its personnel. Additionally, some other machines such as the AHUs were not readily accessible as they were behind metal structures and cages.
Inconsistent Readings: The manual process of data collection often led to inconsistent sensor placement and data collected from varying points of the machines resulted in inconsistent data. Potential for failure and unplanned downtime of large systems like the 200 HP-Air Handling Units (AHU) at one client site led C&W Services to implement the wireless vibration monitoring program. The program is credited for at least 2 saves by early detection, avoiding failures that could exceed $30,000.
GOALS
The potential for failure of large systems and serious limitations posed by their walk-around program, prompted C&W Services to evaluate wireless PdM solutions available on the market. Their team set forth the following criteria:
Continuous Monitoring of Critical Assets: C&W Services wanted to move to continuous monitoring of critical machinery at its pharmaceutical client facility to avoid machine failures arising in between data collection cycles. This was not even an option with manual data collection, given that even the monthly walk-around proved challenging with limited resources. They wanted wireless PdM that would automate data collection and eliminate challenges around variable operating conditions, credibility of readings and manpower shortage.
Real Time Data Insights: With the advent of machine learning, C&W Services sought an innovative solution that could automate analysis on the continuous stream of data. They wanted technology that could do anomaly detection on a real time basis, across all machines and in all dimensions.
Safety of Personnel: Committed to safety of its employees and contractors, C&W Services wanted to use wireless sensors for data collection to eliminate the hazards associated with a walk-around program. Another important goal was to optimize resource allocation by assigning them to more productive activities.
Ease of Installation: C&W Services wanted a PdM system that was easy to deploy and quick to implement. They did not want to incur the expenses of wiring traditional sensors to their equipment or undertake any custom IT projects.
SOLUTION
After evaluating several options, C&W Services deployed Petasense's IIoT-based PdM technology to monitor, analyze and predict the health of important industrial equipment such as AHUs, pumps, compressors, exhaust fans and chillers. C&W Services installed tri-axial vibration sensors called Motes, connected them to the facility's Wi-Fi network and began receiving data and actionable intelligence instantly.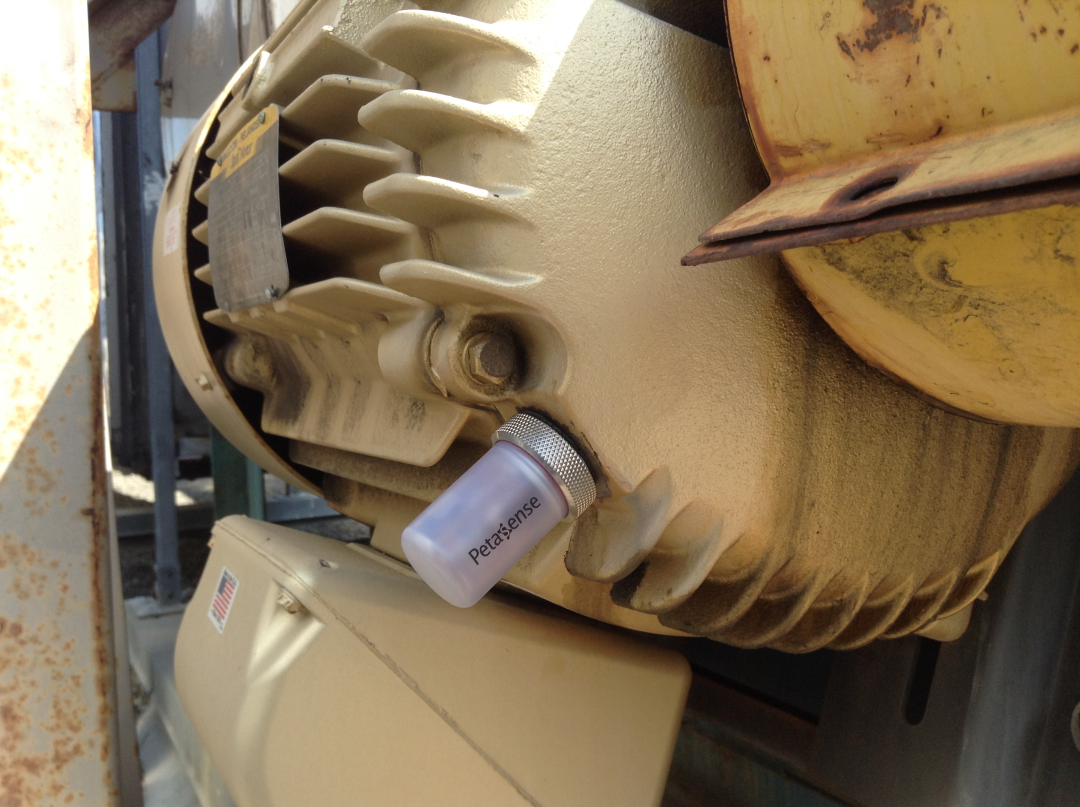 Petasense Vibration Mote mounted on an exhaust fan motor
"The tri-axial data from the Motes improves the diagnostic capabilities by increasing the volume and variety of data available at your fingertips," said Auton. "Also, when you take readings at the exact same time across multiple dimensions and machines, they become much more valuable." "Further, it was very easy to install." Auton was impressed by the intuitiveness, simplicity and elegance of the Petasense technology. The ease of implementation and its ability to run on LAN (IP 802.3 protocol) accessible everywhere was a huge value driver for the C&W Services team.
RESULTS
By implementing Petasense's technology, C&W Services is able to continuously collect vibration and temperature data, predict machine failures, optimize on resource allocation, avoid unnecessary repair costs and improve equipment uptime for it's important life sciences client. Soon after deployment, reliability engineers at C&W Services caught a defect in an AHU. It displayed increased vibration amplitudes. Upon investigation, it was verified that the belts were running loose and the shafts were out of alignment. Petasense's ML based prediction helped identify the issues in a timely manner and prevented a catastrophic failure. This individual case alone saved C&W Services' client significant repair costs and unplanned downtime, sufficient to justify the installation.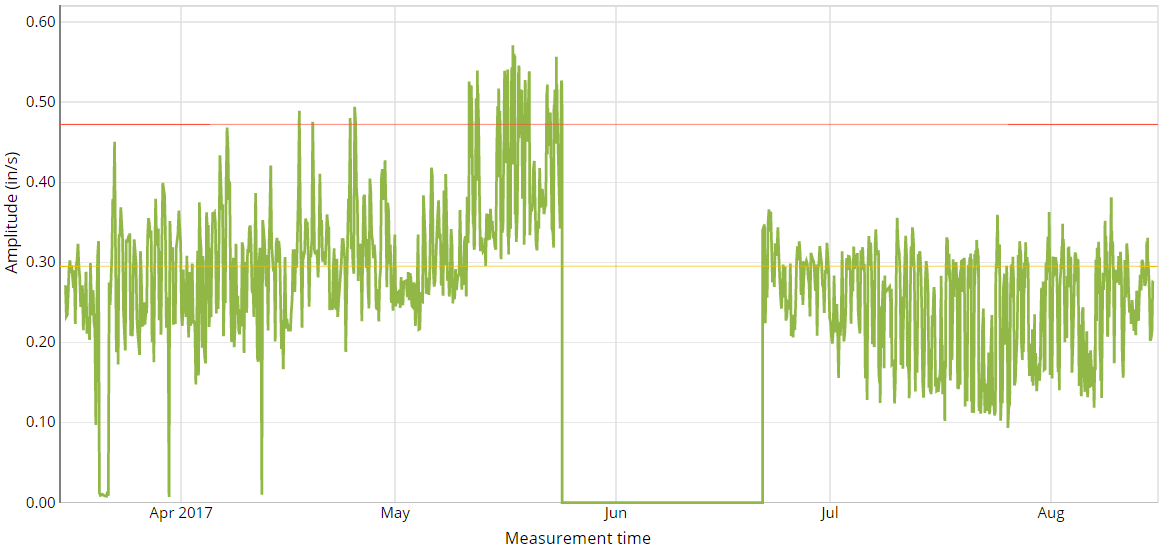 RMS Trend Chart from the AHU that started depicting high vibrations. The flat green line through June represents the machine being shut down for repair work. Thereafter, the vibrations were restored to optimal levels. [Source: Petasense Web Dashboard]
In another instance, Petasense detected an extremely noisy pump. C&W Services was able to schedule a repair promptly and the pump returned to its normal vibration signature upon lubrication. With Petasense, the reliability leaders at C&W Services are able to receive real time alerts along with actionable intelligence on their intuitive web and mobile dashboards as soon as an anomaly is detected. "For us the high point is when we start demonstrating Petasense's machine learning capabilities to our clients," said Auton. "Our goal is to take the magic out of condition based monitoring and then use science to make it as common as an appliance." C&W Services also enjoys access to the Petasense customer success team and knowledge base for the next level of interpretation, as needed. According to Auton, "Most scenarios are able to generate a one year ROI or payback on saved resource costs by switching from manual data collection to wireless PdM and automated analysis." "Wireless PdM from Petasense is an excellent alternative to periodic walk-around programs at a great price point," said Jim Dawson, Executive Director at C&W Services. "We have been able to fix our dated data collection process with continuous monitoring and predictive analytics."