C&W Services implemented Petasense's Asset Reliability & Optimization system as a key piece of changing the reliability culture at a major pharmaceutical company. The results were dramatic, with 31 failures avoided in the first few months and zero unplanned downtime during the first half of 2019.
C&W Services is a leader in outsourced facilities management, with hundreds of clients across North America in pharmaceutical, automotive and process industries. C&W offers a comprehensive range of technical services, including improving asset reliability practices at their client sites. They partnered with Petasense to provide continuous asset monitoring as part of the reliability program improvement.
C&W Services has been working with a major pharmaceutical manufacturer to improve asset reliability within their facilities. One site in particular is a North Carolina facility that runs 24/7, producing oral solid dose drugs and injectable. The facility management team is responsible for critical environments and office space across 1.5 million square feet. The team consists of maintenance technicians, a large custodial staff, reliability engineer, operations manager and PdM technicians. Over the past four years, this team has introduced new processes, technology and culture changes, with dramatic results:
• Improved asset reliability
• Improved employee engagement
• Reduced unplanned downtime
• Improved processes
• Increased preventive maintenance (PM) intervals
• Energy waste reduction
The situation before C&W Services
Before C&W Services was brought in, the site was in reactive mode. The main challenges were ineffective preventive maintenance (PM), a CMMS that wasn't used properly, no predictive maintenance and ineffective cost controls. PM tasks were written, but they were not specific, didn't match the equipment and weren't based on criticality. In some cases, there were duplicate tasks or assets without any impact (e.g. a bathroom exhaust fan) were given the same importance as production-critical equipment. The true impact of unreliability and actual downtime was not clear because the maintenance team didn't capture necessary information within the CMMS.
The CMMS was also missing key information like failure codes and equipment criticality rankings. Even though equipment reliability had a direct impact on operations, the teams lacked the tools and training to predict downtime and were entirely reactive. There were no approvals for spares or contractor work; if a work order was entered, parts were automatically ordered, regardless of cost, leading to higher maintenance costs and un-managed parts inventories.
Many of the PMs that were being completed on the calendar year schedule were found to be unnecessary (ie. filters were clean and didn't need replacing, but they were replaced anyway). Shifting from reactive to predictive maintenance required a system that was easy to use and one that could automatically collect and analyze asset condition data. The maintenance team didn't have the resources to analyze all the data coming in from multiple sources and at different times per day; they needed a system that could flag only the important issues.
Implementing wireless asset reliability program
The team selected Petasense to monitor a wide range of rotating and non-rotating equipment for the following reasons:
• The system provides a machine learning-based Asset Health Score© which provides real-time notification of developing problems. This reduces the time a Reliability Engineer has to spend on analysis.
• Detailed analysis tools that enable investigation of problems when detected.
• Easy and quick to install the complete operating solution.
• Cost competitive.
• Ability to monitor almost any asset with multiple sensor input options.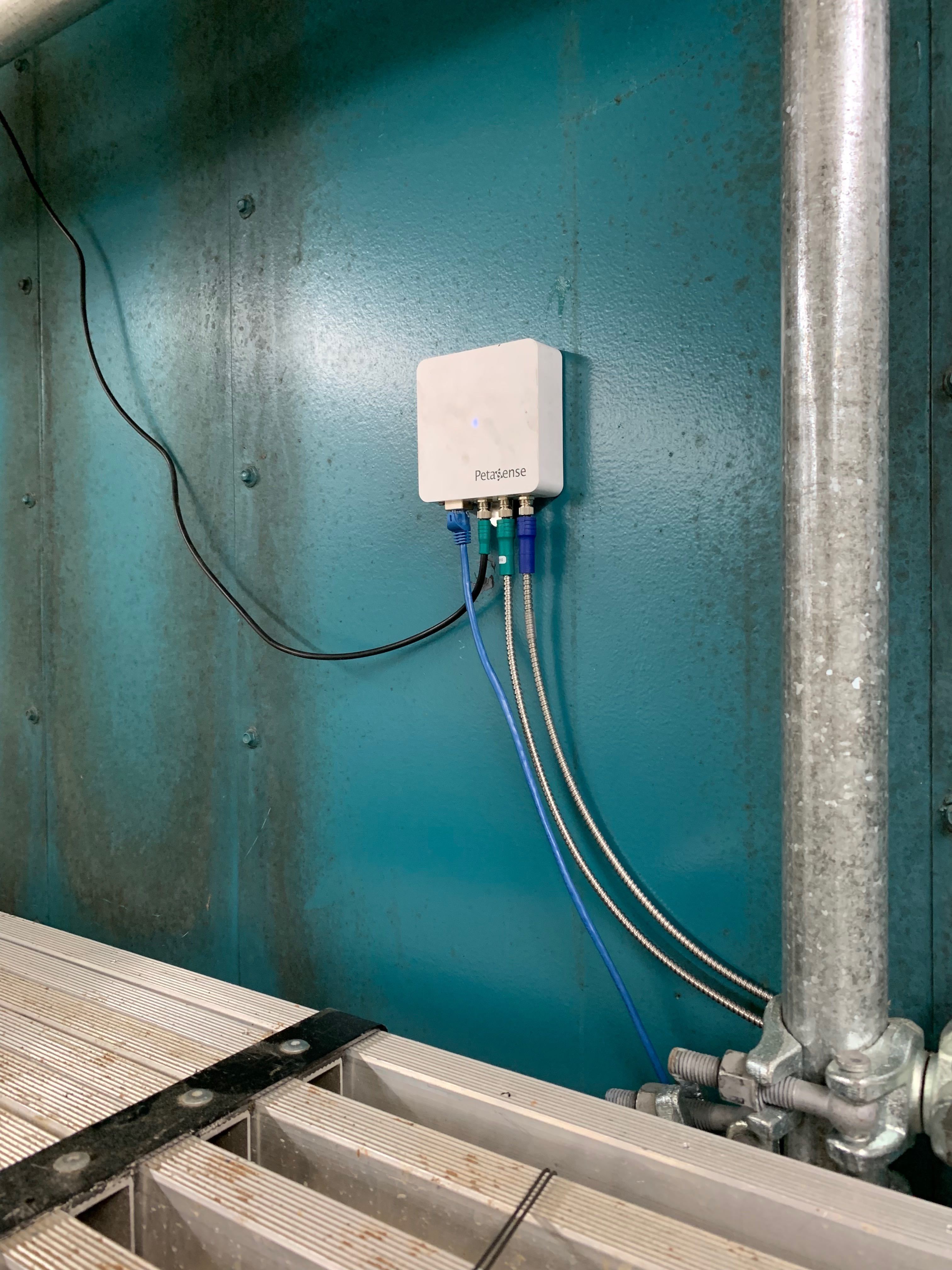 Recognizing the need to quickly demonstrate the benefits of continuous vibration monitoring, the operations manager commissioned the PdM program by setting up sensors on some of the critical air handlers (AHUs). Even with improved PM practices, he was able to find improvement opportunities. One example was immediately after lubrication, the sensors showed over-greasing and soft foot from legs that weren't tightened. The facility has a UE grease gun, but the lubrication technicians weren't using it properly, so this provided the opportunity to improve training. By demonstrating that PdM could pick up problems that were not solved by improved PM alone, money was allocated to expand the program.
Thinking beyond vibration
Most people think of predictive maintenance (PdM) as the application of vibration, ultrasound, thermography, oil analysis, or motor current analysis to rotating machines. The site team looked at PdM as a way to get asset information on rotating and non-rotating equipment. They installed vibration sensors on pumps, motors, and fans, and a range of sensors on non-rotating assets such as steam traps, filters, and HVAC ducts. Some of the less common applications that are being monitored include:
• Measuring filter differential pressure using magnahelic gauges. This measures the air flows back to the unit and after the filter. Sensors are also monitoring the supply air temperature, which gives an indication of both the asset condition and the ability to meet the process demands.
• Monitoring steam traps using ultrasound and temperature monitoring. The primary reason is to save money on condensate back to utilities and allowing the unit to work properly. Trap failures can lead to production stops, and this was happening in some units. One example that was detected was when someone had shut the valve. Within the Petasense system, they could see that the valve was not cycling and were able to detect and correct without replacing the trap.
• Monitoring current and amp draw on each leg of the motors. This allows the team to extend the intervals between IR inspections. This is especially effective for motors not on active control systems.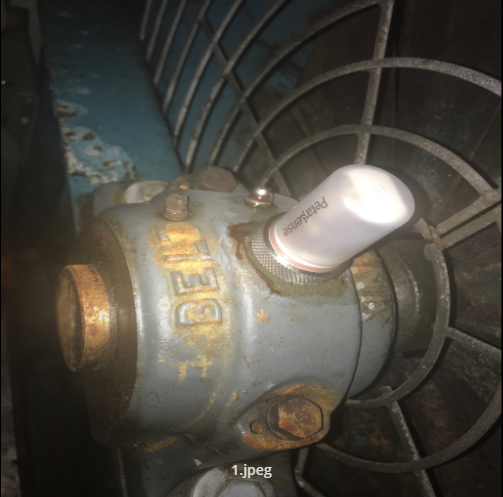 Results
In order to show the effectiveness of the program, the site operations team set clear goals for maintenance and operators. The goals are visible and tracked daily, and results are presented regularly to the pharmaceutical company.  Failure avoidance, energy and cost savings are captured and documented. The team now showcases a "Reliability Board" in a main hallway to drive awareness.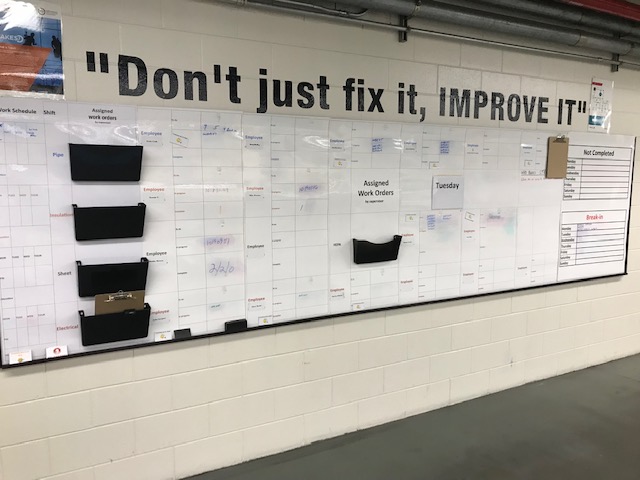 The change in the maintenance culture has led to a more engaged and proactive workforce. By encouraging ownership from the operators, understanding asset criticality, improving PM tasks, and setting up wireless PdM systems to predict downtime, the site has moved from reactive to predictive maintenance. Benefits have been:
• Improved asset reliability; found 31 problems within the first two months of PdM.
• Reduced downtime; the response due to failure dropped from 29% to 9%.
• Improved training; learning the sensor operations also enforces PdM strategy.
• Increased PM intervals; 2X extension of PM intervals on monitored systems.
• Energy reduction; less stream and condensate loss and more efficient equipment operation.
Before the maintenance transformation, the facility experienced a bearing or belt failure on an average of every 48 days. This has now been extended to an average of once every 6 months. With the system, now they are able to detect loose belts, soft foot on motors, bearings and motors needing grease, and failed steam traps. The program has had a huge impact in terms of reliability.
This major pharmaceutical site has achieved zero downtime in the facilities for the first half of 2019. In the previous year, there were four downtime events, one of which was in the facilities and caused significant production downtime.